Seborrheic Eczema – What It Is? And How to Treat It!
Introduction
Eczema can be displayed in varying ways and forms but one specific form of Seborrheic Dermatitis is one that can be difficult to deal with and treat on a daily basis. The following article goes into depth about what eczema is on a basis and what seborrheic dermatitis is and how to treat it.
What Is Eczema? 
Eczema is a skin condition where the skin becomes inflamed, itchy, red, cracked, and very rough. This term is usually used to generally describe common skin conditions such as atopic dermatitis, contact dermatitis, dyshidrotic eczema, and nummular eczema. Although there are several types of eczema, the most common type is atopic dermatitis. Along with the previously listed effects, the skin of those who suffer from eczema may start to blister if not treated properly. Some things that can cause such reactions is the consumption of certain foods like tomatoes, nuts, and dairy. The specific effects of eating such foods vary depending on the age of the candidate. Although this may be the case, most reactions result in red and itchy bumps that are very hard to resist scratching. Along with the consumption of certain foods, various environmental aspects, such as smoke and pollen, can cause the irritation of eczema. Despite the redness and itchy qualities eczema has, it is not contagious.
Seborrheic Dermatitis
Seborrheic Dermatitis is a very common skin condition that affects the scalp. It can potentially cause scaly patches, red skin, and very stubborn dandruff in the scalp. Treatment isn't always necessary for this eczema type and can potentially go away on its own. With the same potential seborrheic dermatitis has of going away, it also has the ability to come back. It is recommended to use a gentle shampoo that works specifically for those who have this form of eczema. Symptoms of Seborrheic Dermatitis include the following: 
Skin flakes on the scalp, hair, eyebrows, beard or mustache 

Patches of greasy skin covered with flaky white or yellow scales

Red skin 

Itching  
This form of eczema is typically caused by a specific type of fungus called Malassezia which is a component of the oil secretion on the skin as well as an irregular response of the immune system. This condition most commonly develops in those who have neurologic and psychiatric conditions, a weakened immune system, and or have recently recovered from a stressful medical condition. For people this applies to, it is best to consult with your doctor regarding the best treatment options for you in particular.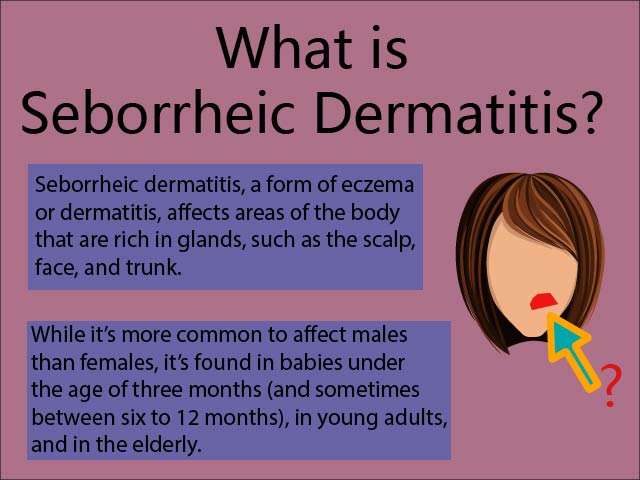 Medicinal Treatments

 
The best way to tackle seborrheic eczema treatment wise is to use products that are specifically made to target and treat inflammation. The easiest products to use that do so are creams, shampoos, and or ointments. The following list of medications is also known to target inflammation are prescription-strength Hydrocortisone, Fluocinolone, Clobetasol, and Desonide. The aforementioned medications are all corticosteroids in which should be applied to the scalp or other affected areas. They are very easy to use but should be applied in small quantities. Although these medications do have great perks, there are some negative aspects. When using corticosteroids for long extended periods of time with no breaks, side effects like thinning skin and or skin streaks or lines become visible. In some cases, corticosteroids will be paired up with antifungal gels/pills or creams to better combat this form of dermatitis. Please keep in mind that it is always good to check with a doctor before using or taking any medicines to manage your seborrheic dermatitis.
Home Remedies, Treatments and Tips 
Gently clean your eyelids 

Gently wash your baby's scalp

Wear smooth-textured cotton clothing  

Avoid skin and hair products that contain alcohol 

Wash your Skin Regularly 

Be sure to rinse the soap

completely

off of your scalp and body 

Avoid harsh soaps and use an efficient moisturizer 

Medicated Creams

It's best to try a mild corticosteroid cream and affected areas 

Do

NOT

get it in your eyes  

Styling Products Must Go! 

Do NOT use hairsprays, gels and other styling products when monitoring and addressing this form of eczema 

Shampoo Facial Hair Regularly 

It is key that those who have facial hair keep the skin underneath them clean 

Soften and Remove Scales from Hair 

Use mineral oil or olive oil to the scalp 

Leave in for and hour or more 

Comb or brush your hair 

Wash 
Conclusion 
It is always good to have a basis of understanding regarding this form of eczema or any other form for that matter. Although dealing with seborrheic dermatitis might be a little bit frustrating at first, one must find the right course of treatment that best suits them, and afterwards, life with this form of eczema becomes much better!