Does Apple Cider Vinegar Work For Treating Eczema?
Yes! Apple cider vinegar for eczema does in fact work! 
Apple cider vinegar for eczema has many benefits for people suffering from itchy, irritated eczema and it can help in many ways including:
Antiseptic
Antibacterial
Antifungal
Fights bad bacteria
Helps balance skin pH levels
Contains Vitamins
Natural inflammatory benefits
Eczema can be a very distressing condition. Not only does it look unsightly, but it's also extremely uncomfortable as well. 
Let's Review The Effects Of Apple Cider Vinegar On Eczema
People with eczema often experience sensations of burning, itching or tightness in the affected skin and if you suffer from this condition it may seem as if there's little you can to alleviate it.
Eczema can't be cured, but there are ways to better manage it and the first step is to do your best to avoid irritants such as allergens, stress, bacteria, environmental chemicals or heat. These can all trigger an attack or worsen your eczema symptoms.
Did you know Apple Cider Vinegar can be used for weight loss, healthy skin, acne, wrinkles, hair growth, and much more. Learn the Top 10 Benefits of Apple Cider Vinegar and then read the fantastic eBook on all the Amazing Benefits of Apple Cider Vinegar. You will discover how to use Apple Cider Vinegar for Weight Loss, Skin Care, Pain Relief, and a ton of other amazing benefits and uses.
CLICK BELOW: To Learn the Top 10 Benefits of Apple Cider Vinegar and then Read this Amazing eBook!
The second step in managing your eczema is finding natural remedies that soothe your skin. Your body and your eczema are unique, which means that what works for other people may not always work for you. That's why it's important that you explore every treatment option possible to determine what will offer you some relief.
Apple cider vinegar is one of the most effective home remedies available for treating eczema. This liquid has an almost magical ability to soothe the skin and is an easy and natural way to alleviate the symptoms of eczema. This will allow you some relief from your symptoms without the many troubling side effects of harsh medications.
Remember it's not an eczema cure! But it may help reduce the itchiness and redness.
What is Eczema?
Very briefly, eczema is the name used for a group of skin conditions that cause redness, itching, and swelling. It can range from a mild rash to severe blisters and usually affects the face, neck, elbows or the backs of the knees, though it can appear anywhere.
It's a very common disorder that afflicts over 30 million Americans. The cause of eczema isn't yet known, though there is a strong genetic component and if you have a parent with eczema you're much more likely to get it yourself.
An outbreak of eczema is usually caused by environmental irritants or allergens that switch on the immune system. When this occurs, the skin cells overreact and become inflamed. Eczema may look a little unsightly, but it is not at all contagious.
The Key to Natural Eczema Treatment
There are a number of medical treatments that may help improve your eczema. These are typically harsh chemicals that often have troubling and potentially dangerous side effects.
The medication most commonly used for eczema treatment is topical steroids. However, using these medications over the long term is not recommended as it can cause skin problems as well as damage to other systems in the body. That's why it's important that you find natural treatments that can soothe your eczema and support your overall health and wellbeing at the same time.
Some of the keys to natural treatment are:
Identifying what triggers your eczema and taking steps to avoid those irritants.
Adjusting your diet to exclude foods that can cause flare-ups.
Develop a bathing and moisturizing routine that keeps your skin in good condition.
Checking your skin regularly for signs of infection so you can get treatment before it causes damage.
Using medications and medicated creams sparingly and only as directed.
Learning which home remedies can help alleviate your symptoms and soothe your skin during flare-ups and in between them as well.
>>>>CLICK HERE: To Learn More About The Benefits Of Apple Cider Vinegar!
What is Apple Cider Vinegar?
Apple cider vinegar is made by combing apples with yeast. The yeast converts the sugar into alcohol and then bacteria are added to ferment the alcohol into acetic acid. This is a fairly weak acid, with only 5-6 percent acetic acid. The rest of the vinegar is made up of water, vitamins, minerals, and trace amounts of other acids.
You must use a certain type of Apple Cider Vinegar. To identify the type you need it must have The Mother in the ingredients list. You can also tell from the distinct cloudy look it has. Most stores don't sell the correct one. They sell a cheaper variety that doesn't contain the correct ingredients. You can buy it directly from Amazon, the link is below.
Natural apple cider vinegar is available from Amazon direct to your door.
Why Does Apple Cider Vinegar Work?
Apple cider vinegar is an ancient remedy that has been used to treat skin problems as well as other conditions for thousands of years.
Some of the most important benefits of using this remedy for your eczema are:
It contains acids that are antiseptic, antibacterial and antifungal. This means that it will help to fight off infections and other problems that can make your eczema worse.
It cleans and removes bacteria, dust, and oil from the skin safely and naturally.
The high fiber content supports the digestive system and allows for better detoxification, which helps to give relief from eczema.
When you drink it, the detoxifying effects of the vinegar help to cleanse the body of toxins, which can improve the skin.
It balances the skin's pH levels, which can prevent eczema outbreaks.
The natural inflammatory effects of the vinegar can help to soothe the skin.
It contains a number of vitamins, minerals, salts, and enzymes that boost the immune system. This includes riboflavin, iron, phosphorus, calcium, sodium, potassium, pectin and sulfur.
Vinegar contains beta-carotene, which is an antioxidant that helps to renew the skin cells and encourages healthy cell growth.
The Argument Against Using Vinegar
Apple cider vinegar has a number of proven health benefits. Unfortunately, there isn't a lot of scientific evidence that it improves or helps treat eczema. This may be partly because of the cause of eczema isn't fully understood.
If medical professionals don't understand what causes something, they can't really understand how to treat it properly either. This unfortunate truth makes the use of this product a little controversial.
However, many eczema sufferers claim that apple cider vinegar causes massive improvements in their condition, so it's definitely worth trying.
Is Apple Cider Vinegar Safe?
Apple cider vinegar is relatively safe in small amounts, however, you need to be careful not to take too much. In large amounts, this liquid can cause a number of health problems including unpleasant digestive symptoms, slower digestion, potassium deficiency, and bone loss, burns on the skin or in the throat, and enamel erosion.
What To Avoid When Using Apple Cider Vinegar
To avoid these types of problems, start with a small amount and gradually work up to no more than 30ml a day taken orally. Your personal tolerance may be different from this guideline, so if you notice adverse effects before you reach 30ml then stay at the lower dose.
General Tips for Using Apple Cider Vinegar
Apple cider vinegar is a highly nutritious liquid that soothes and nourishes the skin. However, these benefits don't apply to all forms and uses of this liquid.
To get the most from this natural home remedy, make sure you follow these guidelines:
Make sure the liquid is dark-colored and that there's sediment at the bottom of the container. If your vinegar doesn't have this, it's been stripped of its nutrients and won't help your eczema.
Dilute the vinegar before applying to the skin and watch for adverse reactions. If any appear, wash the area thoroughly and discontinue use immediately.
Don't use apple cider vinegar if you have diabetes, peptic ulcers, chronic indigestion or heartburn as it may interfere with your medications or cause unpleasant side effects.
Don't use this remedy when pregnant.
If you have any additional medical conditions, make sure you consult your doctor before using apple cider vinegar.
Use an eczema moisturizer after applying the vinegar to protect the skin from dryness.
If you're drinking apple cider vinegar, follow the directions and use a straw to protect your teeth and throat from damage.
Make sure you consult with your doctor before applying apple cider vinegar to a child under the age of 8.
Apple cider vinegar can sting on new outbreaks of eczema, but it shouldn't hurt at all once the outbreaks are a couple of days old.
If you have particularly sensitive skin, dilute the vinegar with more water in each of the recipes below.
A Home Remedy You Can Drink
You can use apple cider vinegar in a number of different ways.
Drinking it will not only help to soothe your skin, but it may also offer other health benefits.
Apple cider vinegar can help with weight control, lower your cholesterol levels, and improve your heart health. It doesn't taste fantastic, but if you add some honey it's not as unpleasant as you might think. To make your apple cider drink, try the following recipe:
Remember to use The Mother Apple Cider Vinegar
Add 1 tablespoon of vinegar to 30ml of warm water.
Add honey to taste and mix thoroughly.
Drink the mix three times a day at least half an hour before meals.
Apple Cider Vinegar and Baking Soda Drinks
You can double the benefits of your home remedy by adding baking soda to your eczema fighting drink. Baking soda is great for soothing flare-ups and works just as well when combined with apple cider vinegar. It also helps to neutralize the acid so you don't get that burn in your throat as the vinegar goes down. It will also help to protect the enamel on your teeth from damage.
Here's how to make this drink:
Add ¼ of a teaspoon of baking soda and 2 tablespoons of vinegar to half a cup of water.
Stand back and watch the mixture fizz.
Once the fizz has stopped, add honey to taste.
Drink once a day every day.
Baking Soda And Apple Cider Vinegar Tea
You can also make a tea from baking soda and apple cider vinegar. This can be a little harder to drink, but it works well to soothe the skin. If you want to try this option, here's the recipe:
Add 2 tablespoons of vinegar and ¼ teaspoon of baking soda in an empty cup.
Watch it fizz.
When the mixture has calmed down, add half a cup of water and mix well.
Add a tea powder according to your preferences and mix it again.
Drink every morning.
Applying Apple Cider Vinegar to the Skin
One of the best ways to use this remedy is to apply it directly to the skin using the following procedure:
Mix one cup of apple cider vinegar and one cup of water in a bowl.
Apply the solution to the skin with a cotton ball.
You can also put the mixture into a spray bottle and spritz it onto the affected area.
Use this remedy morning and night until you notice a change.
Apple Cider Vinegar Baths
One of the most effective and relaxing ways to use apple cider vinegar is in the bath. This will not only soothe your skin, but it will also lower your stress levels, which can improve your eczema.
To enjoy your vinegar bath, try the following:
Mix two cups of vinegar into your bath.
If the bath is for your child use about 4 teaspoons of apple cider vinegar per 3 and a half liters of water.
Soak for about 30 minutes.
Pat dry and put on an eczema moisturizer.
Wear loose clothes to avoid irritating your skin.
Repeat 3-4 times a week.
To read Stephanie Nuzzo's personal experience with Apple Cider Vinegar Baths CLICK HERE!
In the Laundry
There's no point in taking all of these measures to treat your eczema if you use harsh chemicals on your laundry. This will only put more potential irritants right against your skin and probably cause outbreaks.
Vinegar is a natural fabric softener and it won't leave a residue that irritates your skin. Just make sure you don't use bleach and vinegar together as they combine to produce toxic fumes.
To wash your clothes using vinegar, try this method:
Make sure you use white apple cider vinegar so you don't end up staining your clothes.
Put your clothes in the washing machine and add ½ of a cup of vinegar.
Wash as normal.
Another amazing gadget to you can use for Laundry is the ECO EGG used thousands of eczema sufferers worldwide this neat device replaces laundry detergent. No harsh chemicals and it still gets your laundry clean.

>>>>
We also recommend you read our article, "Eco Washing Egg – UPDATED" For a COMPLETE REVIEW!
Apple Cider Vinegar For Weight Loss
We are not a weight loss website so we won't go into too much detail about the benefits of using Apple Cider Vinegar to help weight loss, but according to a recent survey, it can!
The Sunday Express recently published an article about the benefits of using Apple Cider Vinegar as part of your weight loss plan. You can read the full article on their website, Apple Cider Vinegar weight loss.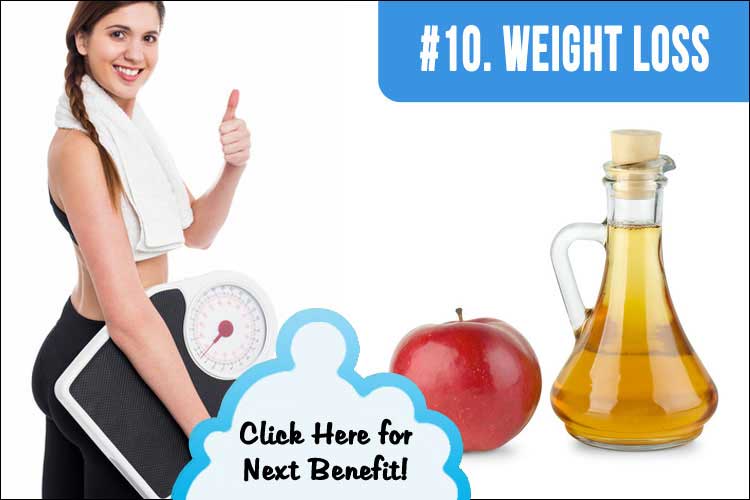 How does Apple Cider Vinegar Work?
A Scientific study carried out in Japan showed that drinking Apple Cider Vinegar can help you lose more weight.
The nutrition experts at the Central Research Institute in Aichi asked two groups of people to drink different amounts of apple cider vinegar once a day, and a third control group drank a drink with no apple cider vinegar.
The scientists found that the apple cider vinegar drinking groups lost weight, had a lower BMI and lost inches around the waist.
Just how much cider vinegar should you drink? They found the optimum amount was one tablespoon a day or 15 ml saw test subjects lose 2.6 lbs or 1.2 kgs.
Those who had double that a day lost, even more, shedding 3.7 lbs, or 1.7 kgs a day.
The report did, however, say that you should not take more than that! If you take too much Apple Cider Vinegar like anything in life it can have harsh consequences.
Final Thoughts
Dealing with eczema can be disheartening and even embarrassing sometimes. It always seems to worsen right at the worst possible time, such as when you have an important event or just want to look amazing. It's markedly uncomfortable as well, and this can diminish your enjoyment of everyday activities.
Eczema may be difficult to treat, but there are a number of home remedies you can try that will help. Apple cider vinegar is one of the most effective natural home remedies available, and it can be used in a number of ways to soothe the skin so you can get on with the rest of your life.
So does apple cider vinegar work for eczema? We believe so, why not try it at least just once. Give it a go, what do you have to lose?
Lindsey & Carl
Editors @ Our Eczema Story
Related topic
Apple cider vinegar along with other natural eczema remedies can be used to treat eczema feet. Click here for all the details.
References: