Eczema Support Group Information And Contact Details.
We set up this website to help anyone who suffers or cares for someone with Eczema. eczema support and contact details are so important. Often, I get asked ' who apart from my doctor can help me' Well. there are many organization out there that offer free and impartial information and advice. Eczema support and contact details are very important especially when it flares up.
Your Doctor should always be the first port of call, but after this online support can be really helpful.
We also recommend joining online support groups on social media like FACEBOOK and TWITTER. Websites are a valuable source of information but social media is faster and you're talking to people in similar situations to yourself.
We have a FACEBOOK support group, we chat and talk to people who know what you're going through. They can provide helpful tip for managing eczema daily. They provide a wealth of information about products that they have found that work. Remember, everyone is different and react differently, so take their advice lightly and always seek a  professionals opinion if you're unsure.
Helpful Eczema Contact Details –
About Us:
Formed in 1975, The National Eczema Society has two principal aims: first, to provide people with independent and practical advice about treating and managing eczema; secondly, to raise awareness of the needs of those with eczema with healthcare professionals, teachers, and the government.
National Eczema Society
11 Murray Street
London
NW1 9RE
Queries about eczema
Please contact our Helpline on 0800 089 1122 . We are open Monday to Friday 8 am to 8 pm. Alternatively, you can email us on [email protected]
Hello! We're the National Eczema Association
We're here because you're here. We are the voice, the resource and the hub for the more than 30 million Americans and their families who are living with eczema.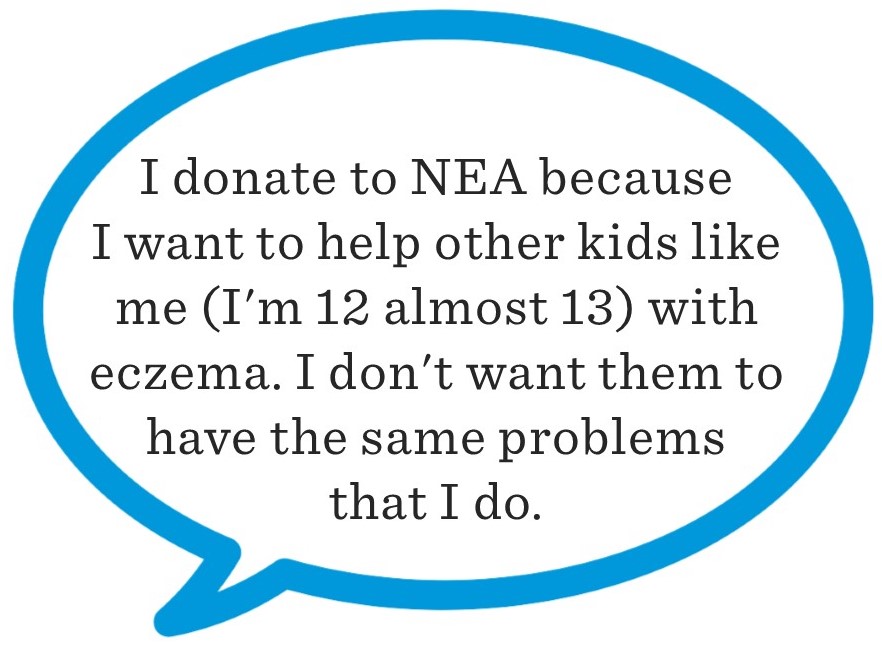 The National Eczema Association (NEA) is a non-profit, 501(c)(3) organization with a mission to improve the health and quality of life for individuals with eczema through research, support, and education.
This means that day in and day out, NEA provides people with eczema the information they need to best manage their condition, while fast-tracking research towards better treatments and a cure.
National Eczema Association
4460 Redwood Highway, Ste. 16-D
San Rafael, CA 94903
What's National Eczema Association's phone number?
415.499.3474
About Us
About the work of the British Skin Foundation
Sixty percent of British people currently suffer from or have suffered from a skin disease at some point during their lifetime. Some skin conditions are manageable, others are severe enough to kill. We are here to help change that.
We believe research is the key to beating skin disease, and we've come a long way in terms of what we know about them since the charity was founded back in 1996. In that time, we've taken great strides in understanding how many of the skin diseases function and spread, as well as how this will ultimately affect our management of them.
Our unwavering commitment to funding quality research means we won't stop until we've found cures for common skin problems like eczema and acne through to potential killers like malignant melanoma.
None of our work would be possible without the help of supporters and people who dedicate time and effort to fundraise for the charity and to raise awareness of skin conditions.
eczema support and contact details
For general enquiries, please complete the form below and we'll get back to you as soon as possible. Alternatively, call 0207 391 6341

Or write to us at the following address:

British Skin Foundation
4 Fitzroy Square
London
W1T 5HQ 
About talkhealth
talkhealth is a team of like-minded individuals, who are keen to provide the latest health information and support that is currently available.  The team's primary aim is to make health support easily accessible to everyone, offering interactivity between health professionals, charities and fellow patients and their carers'.
Such a lack of support back in 2000 prompted the idea of talkhealth, following the birth of Deborah Wyatt's daughter with a chronic eczema condition.  The talkhealth team is very aware of how time-consuming it is piecing together all the disparate information that is available across the internet, plus most importantly understanding its trustworthiness.  Secondly, they also understand the wish for people to be able to easily communicate directly with others in a similar position.  Chronic health conditions can be very alienating and there is only so much you can repeatedly discuss with family and friends.  Talking openly with others who fully understand health issues is a very important part of the talkhealth community experience. eczema support and contact details are vital for caring for people with eczema.
The talkhealth team are all actively involved in the communities' membership and talk openly in the forums and regularly on the blogs.  They are always on the lookout for anything that they feel would be of interest to visitors and therefore openly encourage anyone to contact with news and information that they feel will be of genuine benefit to the community.
Contact us
If you would like to contact us or provide feedback about the talkhealth site or service, you can write to us, tweet or email us directly at the addresses below. Alternatively, you may prefer to speak to a member of the talkhealth team who are available during standard office hours (Mon-Fri 0900-1730), on our switchboard number below.
talkhealth Partnership Ltd
Landmark House
Station Road
Hook
Hampshire
RG27 9HA
UK
Email contact address: [email protected]
Switchboard: 01256 962250
Twitter: @talkhealth
Over 270000 members this online support group has a wealth of information for eczema.
>> CLICK HERE <<<<
The British Association of Dermatologists (BAD) is a charity whose charitable objects are the practice, teaching, training and research of Dermatology. It works with the Department of Health, patient bodies and commissioners across the UK, advising on best practice and the provision of Dermatology services across all service settings. It is funded by the activities of its Members.
Established in 1920, it is a registered charity with an incorporated body of trustees, the Executive Committee, who are all dermatologists elected by the membership. The Officers, supported by the professional staff carry out the day to day business from Willan House, the headquarters building in central London.
The BAD has clear objectives which are set out in the Constitution and are taken forward by the business units and sub-committees.
The BAD works with many other organizations to achieve its aims of supporting patients and improving standards. These include Patient Support Groups, Special Interest Groups, International Dermatology Groups and the Medical Royal Colleges.
On this site we provide information sheets about skin diseases,eczema support and contact details,written and approved by our dermatologists, as well as general information about the skin, current issues in skin disease along with changes to dermatology services in the UK and those areas experiencing problems with providing access to care for their patient population.
British Association of Dermatologists
Willan House
4 Fitzroy Square
London
W1T 5HQ
Tel: +44 (0)207 383 0266
Fax: +44 (0)207 388 5263
Email: [email protected]
Eczema Outreach (Scotland) exists to support children & young people with eczema and their families in Scotland.
Why join? To talk to someone who understands, get tips and practical help with things like school health care plans, improve self-management of eczema and meet others!
We are a free membership organisation which offers a range of services to our families. They include 1-1 support & practical advice, invitations to our Learn & Share events,  the High 5 Club's newsletters, an online forum and ideas to raise awareness or fundraiser.
Address:
EOS, Bryerton House, 129 High Street, Linlithgow, West Lothian, Scotland, EH49 7EJ
Family Tel. 0800 622 6018
Office Tel. 01506 840 395
Text. 0780 704 8070
Email: [email protected]
Social Media: Facebook, Twitter
The office is open Monday to Thursday 9am to 3pm.
Our story
We were founded in the 1970s by families of disabled children, who recognized that even if their child's conditions were different, they shared a common experience – of being a family with a disabled child. They understood how important it is to support each other.
A lot has changed since then but some things haven't changed nearly enough. There is a desperate lack of services and support for the 620,000 parents in the UK who care for a disabled child. As a result, families face a huge range of challenges and many feel isolated and alone.  Coping with extra financial costs and practical challenges can put an enormous strain on daily life, with families more likely to face emotional issues, stress, and anxiety.
We are here for all families with disabled children – supporting families, bringing families together and helping families take action for others.
Our vision is that families with disabled children feel valued and are strong, confident and able to make the decisions that are right for them. Eczema support and contact details, on our website.
General enquiries
Contact
209-211 City Road
London
EC1V 1JN
Tel: 020 7608 8700
Fax: 020 7608 8701
Email: [email protected]
FACEBOOK AND SOCIAL MEDIA SITES
ECZEMA SUPPORT GROUP:  CLICK HERE
BABY ECZEMA SUPPORT GROUP: CLICK HERE
ECZEMA AND DRY SKIN SUPPORT GROUP: CLICK HERE
CONTACT ECZEMA: CLICK HERE
ANOTHER HELPFUL ARTICLE CLICK THIS LINK! >>   TYPES OF ECZEMA
RECOMMENDED PRODUCTS ARTICLE CLICK THIS LINK > PRODUCTS