Have you just heard about Manuka Honey and its benefits for treating eczema? Manuka Honey shampoo for eczema is amazing if you're suffering from eczema on your head.
Manuka Honey isn't a new product but its now been added to shampoos which are perfect to use if you have eczema.  The application of Manuka honey to the skin is thought to be helpful in killing harmful bacteria and reducing eczema outbreaks and flare-ups. Any products that are natural and helps stop the dreaded eczema flare-ups sound good to us. The skin on your head is very sensitive and you need to be very careful with the type of shampoo you use. Use the wrong one and you will irritate your eczema making you scratch which will only lead to more damage to your scalp.
You just need to type into Youtube MANUKA HONEY FOR TREATING ECZEMA and you'll be amazed how many results you'll find. I wanted to know how effective it is in treating eczema on your head? So we began to research and try the product for ourselves and we were amazed at the results.
What is Manuka honey?
The name Manuka comes from New Zealand where it's the Maori name for the tea-tree plant.Supplied: John Tann on Flickr (CC BY 2.0)
Manuka Honey is made by bees that pollinate the native manuka bush in New Zealand. People say it has been in traditional use for generations to treat wound infections. More recently it has been used to help fight MRSA virus in hospitals. Its antibacterial properties have been proved to be very effective in fighting harmful bacterias and we think Manuka Honey Shampoo will really help you.
Where does manuka honey come from?
Manuka honey made from the native Tea Tree in New Zealand
Manuka Honey comes from New Zealand and was first produced in the early 1840's. Australia also produces Manuka Honey but the use of the name Manuka Honey has been a bitter argument with New Zealand claiming Austrailia can't use the name as the name comes from the Maori language spoken and originated in New Zealand.
The New Zealand government has filed an application in five international jurisdictions to trademark the term "manuka honey".
History of honey and its healing properties
Bees and honey are mentioned early in our human writings, ever since Sumerian and Babylonian writings and there are laws about bees in Hittite Code.
In one of the oldest known scriptures dating approx 2000 BC, there is a prescription written on a clay tablet from Nippur, the religious centre of the Sumerians in the Euphrates valley. It is a remedy for treating and healing wounds which tell you to: "Grind to a powder river dust and …. (words missing) then knead it in water and honey and let plain oil and hot cedar oil be spread over it." Proving that Honey was being used as a form of medicine back in 2000BC. This is the first documented evidence that honey was used as medicine.
Honey was recorded even earlier Ancient Egypt and even China but it isn't clear if they were using it as medicine or just as a food source.
Honey was and still is used around the world to treat wounds, normally applied to bandages and wrapped around the wound to speed up the healing process.
Manuka fights bacteria
Manuka honey kills harmful bacteria by destroying key bacterial proteins. Dr Rowena Jenkins and colleagues from the University of Wales Institute – Cardiff investigated the mechanisms of manuka honey action and found that its anti-bacterial properties were not due solely to the sugars present in the honey. His work and paper presented in Sep 2009 showed the results of experiments in using Manuka Honey in laboratory conditions.
Meticillin-resistant Staphylococcus aureus (MRSA) was grown in the laboratory and treated with and without manuka honey for four hours. The experiment was repeated with sugar syrup to determine if the effects seen were due to sugar content in honey alone. The bacterial cells were then broken and the proteins isolated and separated on a system that displayed each protein as an individual spot.
Many fewer proteins were seen from the manuka honey-treated MRSA cells and one particular protein, FabI, seemed to be completely missing.
The NHS notes there are a growing number of clinical reports that have shown Manuka Honey is effective in treating skin conditions with some amazing results.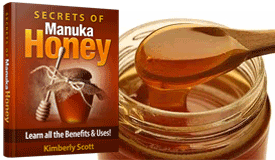 What is UMF?
UMF ( UNIQUE MANUKA FACTOR ) is a grading system for Manuka Honey. Manuka honey is used in many different formats from cooking to medical use and for that reason, it needs a grading system to ensure the correct level and quantity are used. Manuka honey is 100% natural and safe to use but like anything, if it's used in excess it can be harmful.
UMF – stands for Unique Manuka Factor
UMF – a quality trademark and grading system
UMF – identifies natural unadulterated manuka honey
UMF – identifies manuka honey that has the special natural property found only in some strains of manuka honey.
UMF – a grading system that appraises the natural markers found in Manuka Honey, and assures purity and quality.
UMF – protects your rights as a consumer because not all manuka honey has the special manuka property and among those that do the strength of the property varies.
UMF – a quality trademark that can be used only by licensed users who must be a New Zealand company and meet set criteria.
Using Manuka Honey Shampoo for eczema
 One of the most sensitive parts of your body, if you're suffering from eczema, is your scalp, especially for babies and younger children. Irritation to this part of the body will lead to endless itching and discomfort. This can lead to infections and flare-ups. Applying Manuka honey direct to your hair and scalp isn't practical due to the thickness and concentration of Manuka Honey. However, using it as an ingredient in shampoo has some major benefits. It natural and proven healing properties are perfect for eczema sufferers.
Heres the product we are using.




Our Story:
Honeyskin Organics is a brand of products that offers an organic solution to your skin and hair needs. We've searched the world for the very most effective natural ingredients in skin care, hair care and cellular regeneration. Rather than reinvent the wheel, we looked for what in nature had been scientifically identified to work and had stood the test of time. It's been quite the adventure. The beauty has been that the more people in the world that discover our products, the more we realize how special they are. It's truly a dream come true for us to be able to help so many customers by offering a line of products that use natural and organics ingredients. We are very proud of the products we have developed and are pleased to be able to share them with you.
NATURAL INGREDIENTS, PURE, ORGANIC AND GENTLE SHAMPOO WHICH PROMOTES HEALTHY SCALP AND GORGEOUS HAIR!
Perfect to use on ANY hair type.
– Gentle anti-flake Shampoo will CLEANSE and SOOTHE sensitive, damaged scalp skin.
– Use with our Ultra hydrating Conditioner will RESTORE and NOURISH your scalp and hair using organic SUPERFOODS, vitamins and botanical ingredients.
Amazing for hair thickness and color
– pHed at 5.5 so your hair color will be protected.
– Perfect for baby's sensitive scalp issues such as cradle cap.
– Non-Allergenic, Paraben Free, Gluten Free, Sulfate Free
– Manuka Honey, a powerful medicinal honey, is an anti-fungal, anti-bacterial and anti-viral.
– Aloe Vera Barbadensis is our base, soothing the skin, unlike most shampoos which use water as their first ingredient and then sulfates
– Burning the scalp and causing hair thinning.
– Cehami, an Australian botanical reduces redness, itching, inflammation and stimulates hair growth.
– pHed at 5.5 to match the scalp and hair
– Works with it to restore balance. Rebuilds and maintains your ACID MANTLE, your skin's own natural protector, vital for health as well as natural oils to be retained.
– Healthy hair begins from the scalp.
Manuka Honey Shampoo for eczema
Do you want to address any of the following?
Dandruff – Itchy Scalp – Burning Scalp – Hair Loss – Dry Hair – Oily Hair
– Sensitive Scalp  – Cracked Skin Around Hair or Scalp – Colored Hair
– Damaged Hair – Dermatitis – Dry Skin on Bald Spots – Eczema
– Itchy Skin near Scalp – Oily Skin – Psoriasis – Rosacea – Sensitive Skin at all
Made with Manuka Honey from New Zealand.
Cruelty-Free!!!
We are animal lovers here at Honey skin.
No Animal Testing has been done with our products as it would be completely against what our brand believes in.
We source directly from New Zealand all the honey in our products.
All Honeyskin Organics products contain very potent Medical Grade Manuka Honey, and it is that component which sets us apart.  We have an array of fabulous ingredients in our products and we match our products to your skin's pH. This alone is amazing,  but the honey is a true miracle. Manuka Honey comes from a specific group of bees that collect the pollen from the flowers of the Manuka Bush (Leptospermum scoparium), also known as the tea tree bush, native to New Zealand. Honey has a long history as an effective natural ingredient for skin and hair health. The most effective honey in the world is the Manuka Honey that we use.
Recommended by our readers
We asked our FACEBOOK group and reader for some feedback on this product, here's a couple we received.
Nigel, smitherstock – I have been suffering from itchy scalp due to eczema for the past few years and I've tried loads of conventional shampoos and this product is a country mile better than the rest.
Rita, Birk – My daughter has been suffering from birth, At first, I thought she just had cradle cap but I soon realised it was more serious. She was diagnosed with eczema and ever since we have been searching for something to ease the itching. This shampoo was recommended due to it being made with Manuka honey. It really helps and I would recommend it to others.
Final thoughts
It doesn't matter which form of Manuka treatment or shampoo you use, we're confident you will see some benefit for using it and using it to Treat eczema on your scalp.
We hope you like this article, Manuka Honey shampoo for eczema and we'd love to hear from you if you've used this product or Manuka Honey for the treatment of any other skin condition.
Any treatment that can be eaten fills us with confidence that it's safe to use on our bodies.
Good luck and we hope you have some sweet success using Manuka Honey Shampoo for eczema
Carl – Editor Our Eczema Story
OTHER GREAT REVIEWS – Dead sea salt baths for eczema
References
http://www.abc.net.au/news/2016-12-29/manuka-honey-antibacterial-australia-new-zealand/8151996
http://www.medievalists.net/2011/09/the-sweet-side-of-war-the-place-of-honey-in-military-provisioning/
https://www.sciencedaily.com/releases/2009/09/090907013759.htm