Bath Bomb Recipe – 9 Amazing Recipe's For Bath Bombs
How to create a DIY bath bomb that kicks your eczema to the curb!
Do you have itchy, reddened or flaking skin due to eczema? Relaxing in a bath can be a great way to treat your eczema, and it can also be a nice way to unwind after a long day! These incredible ideas for eczema bath bombs will let you soothe itching, clear up rashes, and get soft, moisturized skin.
Create at-home eczema remedies that calm your skin
We know how frustrating it is to have skin that looks red or scaly and itches you so badly you can barely think straight. Soaking in a tub can be a great way to soothe your skin and finally get a break from the constant itching. Fortunately, making bath bombs at home is cheap and easy.
Check out our base recipe for making any sort of basic bomb and then read about the ingredients you can add to turn its healing powers up a notch.
Learn how to make DIY bath bombs from scratch
Treating eczema with bath bombs – does it really work?
The key to making the best bath bomb for eczema is being very careful with your ingredients. Most DIY bath bomb recipes use citric acid, which can make symptoms a lot worse for some people, but this one uses natural lemon juice instead to get the signature fizz. In addition to avoiding ingredients that can worsen eczema, we want our bath bombs to have ingredients that soothe skin.
The two main ingredients in our master recipe are baking soda and coconut oil. Baking soda soothes itchy skin, and its antibacterial products help reduce inflammation if you have any peeling or flaking. Coconut oil helps to repair your skin's moisture barrier and lock in moisture. Without further ado, here's the ultimate bath bombs recipe!
You will need:
½ cup baking soda
½ tbsp melted coconut oil
3 tbsp lemon juice
Essential oils and other add-ins
To make the bath bomb, all you need to do is follow these steps
Combine the baking soda and coconut oil in a small bowl.
Stir in the essential oils and other mix-ins you want to use for this batch.
Put the lemon juice in a small spray bottle.
Lightly spritz in the lemon juice as you stir vigorously. Adding it in small amounts keeps your bath bombs from fizzing too soon.
Once the mixture is damp enough to clump together, press roughly one tablespoon at a time into your mold.
Set in a cool, dry area for at least two days or until firm and dry.
Remove from the molds and store in an airtight, room temperature container until ready to use.
This recipe makes cute little bath bombs with a very pale yellow color from the lemon. If you want to create an aesthetically pleasing bomb, all you need to do is make a few simple adjustments. Those who do not get eczema flare-ups from contact with dye can add a drop or two of their favorite food coloring to the blend. You can also sprinkle dried flowers, flakes of sea salt, or biodegradable glitter into the bottom of the mold before pressing the mixture in. When you unmold the bath bomb, the decorative items will be pressed into the top of the bath bombs to give them a little extra style.
Just the base level of this recipe is soothing enough for curing eczema with bath bombs, but you can make them work even better by adding in mix-ins. Here are a few great ideas!
Honey and oatmeal bath bomb
A lot of the best bath bomb for eczema options have oatmeal because it is so soothing. The oatmeal forms a protective barrier along the skin and lowers inflammation. Honey is another great choice among eczema remedies because it is antibacterial and intensely moisturizing. To make bath bombs with oatmeal and honey, add three tablespoons of ground colloidal oatmeal and one tablespoon of honey to the classic recipe. The oat flour can be a little drying, but the addition of the honey's moisture will ensure the bath bombs retain their classic texture.
Cocoa butter bath bombs
If your main issue with eczema is having dry, flaky skin, then this is the eczema bomb for you! The combination of cocoa butter and coconut oil is one of the most effective eczema remedies. It works well because the cocoa butter provides penetrating moisture and the coconut oil then locks in the moisture. To make this bath bomb, add two tablespoons of cocoa butter to the main recipe and an extra tablespoon of baking soda. Cocoa butter has a naturally sweet, delicious smell, so it can combine well with vanilla, rose, or other scents if desired.
Honey – lavender bath bombs
These bath bombs will smell good enough to eat! Make them by adding three drops of lavender and 1 teaspoon of honey to the base bath bombs recipe. Lavender is a great bomb choice because it is anti-inflammatory and antiseptic. This means that it helps to reduce the redness and rashness that many people with eczema face. Another nice side effect of lavender is that smelling it can reduce pain and make you feel sleepy, so you get a good night's rest instead of lying awake itching for hours.
Eucalyptus tea tree oil bath bombs
These medicinal smelling bath bombs are packed with all sorts of healing and nurturing ingredients. It is quite simple to make. All you need to do is add two to three drops each of eucalyptus and tea tree oil to the bath bombs. Eucalyptus oil helps with eczema because it has an anti-inflammatory effect. Tea tree oil is antibacterial and antiviral, so it keeps you from developing any unpleasant infections in areas where your skin is broken or cracked. This blend of oils helps to keep skin from cracking more and encourages your skin to heal.
Peppermint and oatmeal bath bombs
Treating eczema – with bath bombs is all about providing moisture and managing symptoms.
This recipe is specifically used for the itching that can be the worst part of eczema for many people. Due to certain natural compounds in peppermint, applying this essential oil topically has a cooling effect that can really help to alleviate itching. The addition of oatmeal helps to further soothe skin and stop the itchiness. Making it is quite simple. Add two drops of peppermint essential oil to the base bath bombs recipe along with two tablespoons of ground colloidal oatmeal. Since the oatmeal can remove some moisture from the bath bombs, add an extra half tablespoon of coconut oil to the recipe when you make it.
Sea salt bath bombs
Sometimes the best bath bomb for eczema is a simple option.
These bath bombs do not have any exotic scents or ingredients, but they are very effective. Adding sea salt to a bomb is a good idea for those with eczema because it calms the skin and works to prevent infection. You can make these bath bombs by adding two tablespoons of sea salt and half a tablespoon of coconut oil to the classic recipe. If you can get your hands on Dead Sea salt, it is worth using since studies have found that Dead Sea salt soaks can improve skin barrier function and hydration.
Sunflower seed bath bombs
Sunflower seed oil is full of vitamin E, an antioxidant that reduces skin inflammation and has been linked to improved eczema symptoms in studies. This oil's anti-inflammatory properties make it ideal for an eczema bath bomb to fight redness and flaking. To make a homemade bath bomb with sunflower oil, substitute one tablespoon of sunflower seed oil for one of the tablespoons of coconut oil in the classic recipe. This allows you to get the healing benefits of sunflower oil without greatly altering the texture of the bath bombs.
Calendula and lavender bath bombs
Increase the soothing effect of lavender bath bombs by adding some calendula essential oil to the mix. Calendula, or marigold, the extract has powerful anti-inflammatory effects when applied topically, so it can help to calm flaking and cracking. This simple eczema bath bomb recipe just requires you to place a few drops of calendula and lavender oil in the bath bombs mixture. The floral scents of calendula and lavender smell lovely together, and the resulting bath bombs can help to calm eczema flare-ups.
Healing aloe bath bombs
If you are interested in curing eczema with bath bombs, then you may be interested in this recipe that uses aloe.
Aloe is a naturally soothing plant that can greatly speed up healing times. Adding a little to your bath bombs will let you relax in aloe rich water and let all the helpful compounds in aloe soak into your skin. To make it, you just need to add a little aloe to the recipe and take a few steps to adjust moisture levels. Reduce the amount of coconut oil in the bath bombs recipe by one tablespoon and add in a tablespoon of aloe extract instead.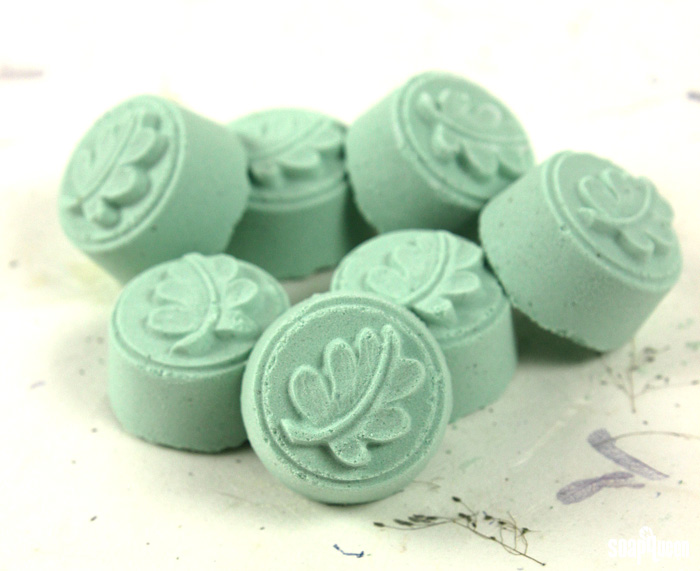 Don't have the time to make a bath bomb? No problem!
Final thoughts
As you can see, making homemade bath bombs is an endlessly versatile project. Switch up the ingredients to pack all your favorite healing and soothing ingredients into one perfect bomb.
Do you want more helpful eczema tips and tricks? Get Your FREE Eczema Handbook! CLICK HERE: To Stop Itching & Start Living TODAY!
Related posts:
References
https://www.themakeupdummy.com/2016/11/02/diy-bath-bombs-without-citric-acid-or-cream-of-tartar/
https://www.healthline.com/health/baking-soda-for-eczema
https://www.webmd.com/skin-problems-and-treatments/eczema/colloidal-oatmeal-baths
https://www.everydayhealth.com/products/reviews/best-natural-essential-oils-for-eczema-prone-skin/
https://www.allure.com/story/can-epsom-salts-help-eczema-symptoms